Accessories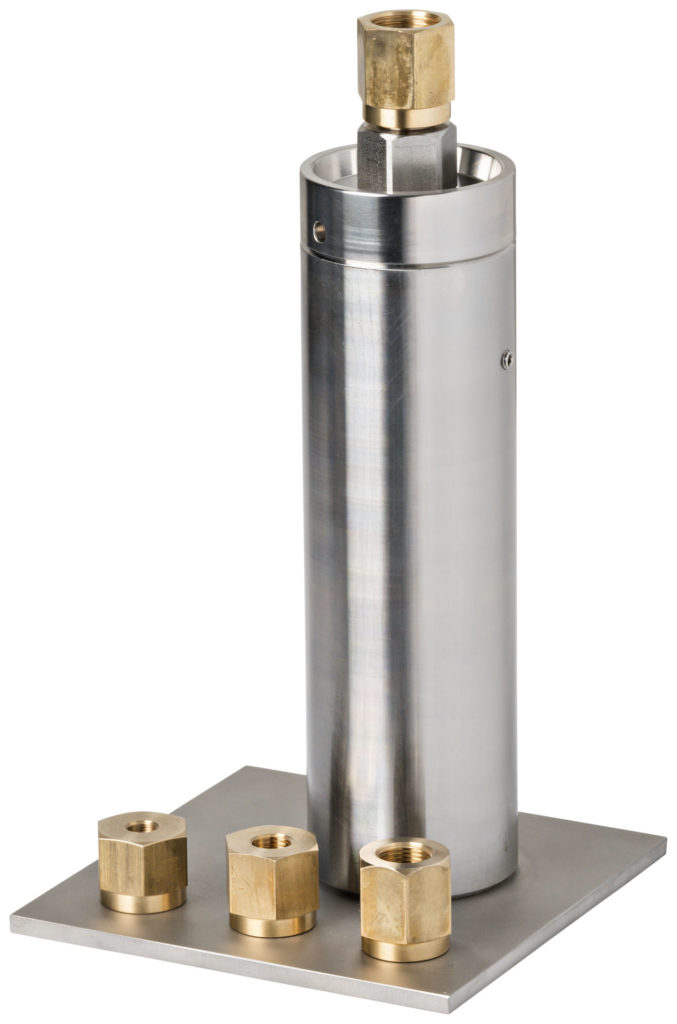 STIKO offers a number of options for the calibration equipment range.
Dirt / moisture trap
This stainless steel dirt / moisture trap is used to protect pneumatic calibration systems from dirt and oil. Any dirt and moisture can be seen through the inspection glass. The maximum allowable pressure is 200 bar. It is delivered with a free standing frame and a ⅛", ¼", ⅜", ½" BSP female adapter set. The unit can be supplied with a filter unit which is easy to drain by means of a drain plug.
Oxygen tester
Oxygen devices have to be absolutely free from oil and grease. Also many other devices have to be kept clean. They have to be tested on air, water or other suitable liquids. This oxytester (oil-water separator) guarantees an absolute separation between reference liquid of the calibration equipment and the device under test liquid. The separator is sometimes used to prevent a tester from being contaminated by solids or liquids from gauges being calibrated. It is delivered with a free standing frame and a ⅛", ¼", ⅜", ½" BSP female adapter set.
Instrument stand
This stainless steel instrument stand is used to connect pressure gauges, transducers and other pressure equipment. The instrument stand is supplied with a ⅛", ¼", ⅜", ½" BSP female adapter set and a minimess quick tubing connection. The maximum pressure is limited by the minimess tubing. With capillary or tube higher pressures can be achieved.
Adapters
A large variety of adapters can be supplied like angle adapters and adapters with a special thread i.e autoclave or other high pressure connections. For instruments under test with NPT thread a ⅛", ¼", ⅜", ½"NPT female and for metric thread: M10, M12, M14, M20 adapter sets are available in brass.
Adapters in stainless steel can also be supplied.
Interested in Accessories for Calibration Equipment?