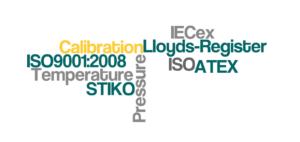 Certificates
STIKO complies to several international standards including ISO9001 and ATEX.
All STIKO instruments are manufactured in full compliance to the European Pressure Equipment Directive (PED).
Our certificates are available for download below.
ISO 9001-2008
ISO 9001 sets out criteria for a quality management system and is the only standard in the ISO 9000 quality management family that can be certified to.
This standard is based on a number of QM principles including a strong customer focus, the motivation and implication of top management, the process approach and continual improvement.
Using ISO 9001 helps STIKO to ensure that our customers get consistent, good quality products and services.
Download certificate
ATEX / IECEx
The ATEX Equipment Directive 2014/34/EU applies to the manufacture of electrical and mechanical equipment intended for use in explosive atmospheres.
STIKO is ATEX-certified for mechanical gauges as well as for contact gauges.
IECEx is an international certification accepted in several countries, which provides assurance of the safety of Ex equipment.
STIKO is IECEx-certified for mechanical gauges as well as contact gauges.
Lloyds type approval
STIKO manufactures self-powered tank-level gauges. These are available with Lloyds type approval.
Download certificate
All Oceans sub sea certification
All Oceans in Aberdeen (Scotland) handles all manners of testing from pressure, through static and dynamic load testing and functional testing.
STIKO subsea instruments have undergone hyperbaric pressure testing by All Oceans, for depths down to 6000m.
Download certificate
Pressure Equipment Directive
The Pressure Equipment Directive (PED) is one of the main European product harmonisation directives and has entered into force in july 2016. The PED is transposed into national law by the EU Member States and aims to guarantee free movement of these products in the internal EU market while ensuring a high level of safety.
STIKO manufactures its temperature, pressure and calibration instruments in compliance with the Pressure Equipment Directive.
Download certificate
"Quality isn't expensive, it's priceless"

- unknown